Finding the Best LCD TV to buy is not an easy task.  With so many advancements with LCD, Plasma, and 3D televisions, the choices can be overwhelming.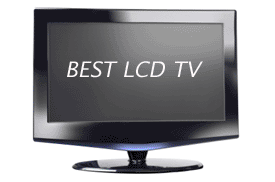 We have done the hard work for you.  Below are what we feel are the top value and top overall televisions for their respective size class.   Choosing the quick links below will take you right to that information.
15 Inch HDTV's     26 Inch HDTVs     32 Inch HDTVs    
 37 Inch HDTVs     40-42 Inch HDTVs     46 Inch HDTVs    
---
15 Inch LCD HDTV
Overall Pick (15 Inch)
Toshiba 15LV505 15.6 Inch Widescreen LCD TV 


This is a highly recommnded set. It has 720p resolution with a 60Hz refresh rate. The picture is natural and the colors vibrant but not washed out. Therefore, it has a nice pleasing picture. A nice feature of this TV is that it has a side-loading DVD player. This is the set I have for the computer room and I love it. We also take it camping and for the family Christmas party where I load up the DVD player with pictures from past Christmas gatherings. The only complaint I have is the delay from switching from one channel to the next. Otherwise, this one is a winner.
Value Pick (26 Inch)
LG 26LD350 26-Inch 720p 60 Hz LCD HDTV


This is a good value HDTV with slightly less PQ and Sound quality than the Samsung LN26C450. Still, a very good television priced about $150 less than the Samsung, One difference that may influence your decision is that this set only has 1 HDMI input while the Samsung C450 has 3 HDMI inputs. Otherwise, pretty solid set overall for a 720p with a 60Hz refresh rate.
Overall Pick (26 Inch)
Samsung LN26C450 26-Inch 720p 60 Hz LCD HDTV


This is a set loved by videophiles and reviewers who rave about the picture. The set gets high marks for picture quality (PQ) when viewing both high definition (HD) and Standard Definition (SD) programming. The set features 720p resolution but for such a small set, it doesn't need 1080p and most likely wouldn't be noticeable. This set would be ideal for RV's, Bedrooms, Kitchens or areas where you sit up to 5 feet away.
Value Pick (32 Inch)
LG 32LD350 32-Inch 720p 60 Hz LCD HDTV


The LG 32LD350 32 inch is a best LCD TV choice for value due to the price and features on this LG HDTV. If you're looking to get into a high definition set, this one is hard to beat in price and performance.  This is a perfect LCD HDTV for people who will sit around 6-8 feet away from the set. The viewing angle is great at 178 degrees.  This 60 HZ LCD TV boasts a 50,000:1 Dynamic Contrast Ratio and a 720p resolution. The picture is vivid and the response time is excellent especially for a 60 HZ LCD.  For an entry level LCD television for less than $300, this HDTV is unmatched.
Overall Pick (32 Inch)
Panasonic TC-L32U22 32-Inch 1080p LCD HDTV


Panasonic's 32-inch Viera LCD HDTV features a new panel that has ISP switching. This allows for excellent viewing angles and better light transmission. This is an excellent HDTV with full 1080p resolution. Many reviewers love the picture, viewing angle, and sound. It also offers 24P Playback from movies in 1080p on BLU-RAY and DVD players. The contrast ratio is 20,000:1 powered by LCD CCFL backlighting. The set has Surround Sound with two 20 watt built-in speakers.
Value Pick (37 Inch)
Panasonic TC-L37U22 37-Inch 1080p LCD HDTV


This Panasonic Viera model is pretty much the same as the L32U22 except in the 37 inch size. The best LCD TV choice here is based on reliability, quality, and price. For less than $500, it offers a lot of features and quality seen at prices several hundred dollars more. This model has the Image Viewer feature that allows viewers to display camera pictures and slideshows from SD memory cards. This model also has VIERA link which allows you to control several HDTV components from one remote
Overall Pick (37 Inch)
VIZIO XVT373SV 37-Inch Full HD 1080P LED LCD HDTV with VIA Internet Application


This Vizio LCD TV has an excellent set featuring the latest technology in LED backlighting. The set has smart dimming technology which allows individual LEDs to lighten or darken images on the screen intelligently. It is full 1080p HD and 1,000,000:1 contrast ratio and a 178 degree viewing angle. This set has WI-FI Internet capability which allows you wireless access to the internet providing you have internet access. The HDTV is only 2 inches in width.
Value Pick (40-42 Inch)
Samsung LN40C630 40-Inch 1080p 120 Hz LCD HDTV


This HDTV offers Samsung's renowned LCD quality in full 1080 HD with 120 HZ Motion rate. This HDTV works well with gamers who own a PS3. For movies, the picture is brilliant and vibrant especially when watching movies in 1080p and 24Hz playback from a Blu-ray player. The set gets high marks for its appearance, sound, and intuitive design of the lighted remote. Lots of quality and value in this HDTV set.
Overall Pick (40-42 Inch)
Sony BRAVIA KDL40HX800 40-Inch 1080p 240 Hz 3D-Ready LED


Videophiles love the picture quality on this set. The black levels are outstanding and the colors vibrant. It also offers 3D with the additional 3d transmitter. The sound is good and produces an outstanding picture with full HD 1080p resolution. The set uses the latest in LED backlighting called local dimming. This technology allows for individual areas of the screen to intelligently lighten or darken based on the image being displayed. It allows for more accurate representation of the picture leading to high contrast levels, deep blacks and bright whites.
For 3D enthusiasts, this set will blow you away with the 3D picture. To experience 3D, you will need the optional Sony sync transmitter and active glasses to watch 3D movies and video games. You can switch from 2D to 3D with a one touch button on the remote.   The set is a little pricey but you won't be disappointed in the picture quality and design of this HDTV.
Value Pick (46 Inch) 2 Choices
Toshiba 46G300U 46-Inch 1080p 120 Hz LCD HDTV


For less than $650, you can have a very pleasing HDTV in full 1080p HD. The screen refresh rate is 120 Hz designed by Toshiba engineers under the term ClearFrame. The set has a gaming mode for video gamers allowing quick response time when playing PC games connected via the TV/PC input. This set can act as a digital photo frame showing off all your favorite photos in a slideshow. This HDTV has 4 HDMI inputs and 2 composite inputs for your audio/video gear. The set does not have their latest technology called Dynalight which is local dimming but still delivers a vibrant and pleasing picture. This is a solid choice for the price point.
Value Pick (46 Inch)
Samsung LN46C630 46-Inch 1080p 120 Hz LCD HDTV


This is one of the most popular LCD HDTVs in the 46 inch class. There's a lot to like about this set. It is priced very competitively and delivers an outstanding picture in full 1080p HD resolution. The motion rate is 120Hz and the contrast ratio is 120,000:1. This set uses the traditional CCFL backlighting scheme and many reviewers rate it above edge-lit LED HDTVs. For the price and Samsung quality, you won't be disappointed in this set.
Overall Pick (46 Inch)
Samsung UN46B8500 46-Inch 1080p 240 Hz HDTV


If you're looking for the latest technology in a HDTV, then this set deserves consideration. Samsung has always been a leader in LCD and LED HDTV's and this set doesn't disappoint. This is 1080p full HD with 240Hz Auto Motion Plus frame interpolation technology. This means motion judder and image blur is a thing of the past. One of the most important advancements in LED TVs is "local dimming". Local dimming technology allows parts of the on-screen image can be turn on (brightened) or off (darkened) independently allowing for this Samsung HDTV to display brilliant images with contrast ratios of 7,000.000:1. The only drawback to this HDTV is it is not a 3D Ready set. Otherwise, it is an excellent choice for your home.
Value Pick  (50-58 Inch)
 VIZIO XVT553SV 55-Inch HDTV 240 Hz


This HDTV was an easy choice for best value LCD for this size class. Vizio really upped the stakes with this 55 inch HDTV. It has the latest technology including 240 Hz motion rate and full 1080p high definition resolution. And the icing on the cake is the feature of local dimming. This is full array backlighting with Smart Dimming for brilliant clarity. This backlit LED set will turn on and off areas of the screen intelligently based on the real-time content. This is a huge improvement over the old technology which uses edge-lit LED or traditional CCFL lighting and lights the whole screen continuously. The energy efficient television can consume up to 50 percent less energy than other HDTVs.
Overall Pick (50-58 Inch)
Sony XBR-52HX909 52″ 1080p 240Hz 3D LED LCD 


This set has among the deepest blacks ever seen for a LCD HDTV.  Sony has thrown all the latest technology into this television including full array backlighting with local dimming. Add the 240 refresh rate and 3D viewing at 1080p and you have a Best LCD TV. The full array means the LED's are arranged behind the entire panel and individual zones of LEDs can be dimmed or brightened independently. The picture quality (PQ) is outstanding with vibrant colors and deep blacks. The only thing that might cause you some discomfort is the price which is around $2,800. Sometimes, you have to pay for quality and you get quality with this HDTV from Sony.
Best LCD TV to Buy
The choices above offer quality and value.   In the end, you must evaluate the choices and prices of each model, then compare your likes and dislikes of each particular model.   When you do that, you will know which is the Best LCD TV to buy.
Incoming search terms for the article: