Samsung is known as a world-wide conglomerate corporation based in Seoul, South Korea.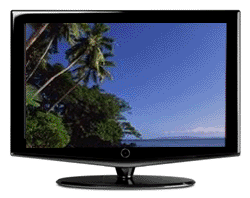 It is South Korea's largest company and is the world's second largest company by revenue with estimated annual revenue of US $173.4 billion.
Beginning in the late 1960s, the Samsung Group launched the electronics division. It created many electronics-related departments and its first product was a black-and-white TV. In the 1980s and early 1990s, the Samsung Electronics division invested heavily in research and development, propelling them to the top of the global electronics industry. In part due to its Samsung LCD TV sales, Samsung Electronics has surpassed Sony among the world's most desirable consumer electronics brands.
The future of LCD TV is 3D and Samsung has started producing LED and LCD suitable panels for 40-inch, 46-inch and 55-inch full-HD 3D TVs using '3D Active Glasses' this month, utilizing Samsung's unique true 240Hz technology. The Samsung LCD TV true 240Hz technology provides full-HD viewing in 2D, while offering sleek, natural, full-HD 3D images which will clearly capture accelerated movements. By utilizing true 240Hz technology, the Samsung LCD TV will show a more lifelike picture with alternating left and right eye images by using the 3D Active Glasses technology.
Motion Response Improved for the Samsung LCD TV
Currently, Samsung has achieved a reduction in their panel's response time of its LCD and LED panels. By offering an acceleration of response time, Samsung will be able to obtain natural 3D images and likewise deliver 2D pictures capturing rapid movement with exceptional clarity. Samsung's new 3D Active Glasses technology will obstruct the left eye and then the right eye lens, which causes a brief lapse when images are shown to each eye to achieve more lifelike 3D images.
'3D Active Glasses,' was introduced as an official term by the Glasses Standardization Working Group of the Consumer Electronics Association (CEA) in 2010. The older technology used polarized glass that produced separate images for the left and right eyes. The end result was half the resolution of two-dimensional pictures as only half of the screen can be viewed by each polarized filter. The panel's brightness was also decreased as a result of polarized filter.
Samsung LCD TV Moves Toward 3D
The 3D panel market is expected to increase exponentially from $902 million in 2008 to $22 billion in 2018. Sales of 3D televisions are expected to increase to $17 billion with sales of 64 million units by 2018. Two of the big players will be the Samsung brands in LCD and plasma and the Panasonic Viera who also manufacture HDTVs in plasma and LCD versions.
Today, the Samsung LCD TV is one of the most sought after televisions in the market due to its value and quality.
Below is the current lineup of Samsung LCD TV.
Samsung 8000 Series LED TV
Samsung UN65C6500 65-Inch 1080p 120 Hz LED HDTV, Black
Samsung UN65C8000 65-Inch 1080p 240 Hz LED 3D HDTV, Black
Samsung UN55C8000 55-Inch 1080p 240 Hz 3D LED HDTV
Samsung UN46C8000 46-Inch 1080p 3D 240 Hz LED HDTV
Samsung 7000 Series LED TV
Samsung UN55C7000 55-Inch 1080p 240 Hz 3D LED HDTV (Black)
Samsung UN46C7000 46-Inch 1080p 240 Hz 3D LED HDTV (Black)
Samsung UN40C7000 40-Inch 1080p 240 Hz 3D LED HDTV (Black)
Samsung 6000 Series LED TV
Samsung UN40C6500 40-Inch 1080p 120 Hz LED HDTV (Black)
Samsung UN46C6500 46-Inch 120 Hz 1080p LED HDTV (Black)
Samsung UN55C6300 55-Inch 1080p 120 Hz LED HDTV (Black)
Samsung UN65C6500 65-Inch 1080p 120 Hz LED HDTV, Black
Samsung UN55C6800 55-Inch 1080p 120 Hz LED HDTV (Black)
Samsung UN60C6300 60-Inch 1080p 120 Hz LED HDTV, Black
Samsung 5000 Series LED TV
Samsung UN40C5000 40-Inch 1080p 60 Hz LED HDTV (Black)
Samsung UN46C6800 46-Inch 1080p 120 Hz LED HDTV (Black)
Samsung UN46C5000 46-Inch 1080p 60 Hz LED HDTV (Black)
Samsung 4000 Series LED TV
Samsung UN32C4000 32-Inch 720p 60 Hz LED HDTV (Black)
Samsung UN26C4000 26-Inch 720p 60 Hz LED HDTV (Black)
Samsung UN22C4000 22-Inch 720p 60 Hz LED HDTV (Black)
Incoming search terms for the article: