Many consumers will buy a LCD or Plasma TV this year and be faced with the decision of whether to buy a TV extended warranty. For panels that cost around $500-$700, it may not make sense to purchase the extended warranty. For sets that cost in the thousands, the decision may be quite difficult. Buying a TV extended warranty will give the consumer piece of mind.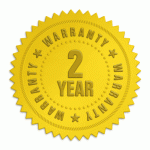 Below are some things to consider when deciding upon an extended warranty.
Currently, most LCD and Plasma panels offer a standard 1 year TV extended warranty. Many credit cards will extend the TV extended warranty for an additional year if the purchase is made with the credit card. Check with your credit card company to see if they participate.
TV Extended Warranty Decision Factors
Determining whether or not an extended warranty can make sense will depend on a few factors including repair history, initial cost of the set, potential repair estimates, replacement value, and the cost of the warranty and the coverage it provides.
LCD and plasma flat-panel TV's are relatively new to the market and not much good historical evidence exists on repair history. The current data tends to show that LCD and plasma TV's are about as reliable as a CRT tube TV. In general Consumer Reports advises against an extended warranty for anything.
According to recent evidence gathered by Consumer Reports, the history shows that flat-panel plasma & LCD televisions have shown to be very reliable products requiring few repairs during their first three years of use. The repair rate for the 10 brands that consisted of their survey was 3 percent, with small or negligible variations between LCD and plasma repairs.
How to buy a warranty
For consumers who want to buy an extended warranty, check the terms closely. Examine when the warranty starts and what it covers. Some extended warranties will begin after the initial warranty has expired while others will just overlap and start from the start of purchase essentially given you 1 less year. Read the small print and determine what is covered and what is not covered!
Pricing the Warranty
Remember, these warranties are huge profit makers for the brick and mortar store so you may be able to negotiate the cost. Research the extended warranty coverage before you buy. What you need to do is once you have a good price agreement on the set, ask them about the extended warranty cost and bargain down from there. Tell them you'll buy the set if you knock off $50 or $100 (depending on the cost of the set) off the extended warranty. If they say they can't, then tell them to go ask their manager for approval. Personally, I would not pay more than 10% of the cost of the set.
Final Thoughts on Buying a TV Extended Warranty
You should research the store and look online for consumer complaints of companies not honoring extended warranties. The Best Buy Warranty seems to have a lot of complaints at ConsumerAffairs.com. Personally, I had issues with them honoring an extended warranty on my car stereo. My standard response when they ask me if I wish to buy an extended warranty is: I wouldn't take the extended warranty if you gave it to me for FREE! Many other individuals have had good luck with extended warranties and buying one has given them piece of mind and comfort when it was need to replace the defective item. Just ensure you read the warranty in detail and check online for red flags against certain companies.
It can be a tough decision to purchase a TV Extended Warranty. Hopefully, you will be able to reach a comfortable decision after reading this article.
Incoming search terms for the article: